Enjoy a boat Ride respecting the environment on board of our ecological Hybrid/Electric boat.
From the Vieux-Port, we sail South across the beautiful Bay of Marseille. We will have the opportunity to learn about the French oldest city history and its main monuments.
We will reach the gates of the Calanques, la "Baie des Singes" (The Monkeys Bay), This amazing passage between Maïre Island and the Croisette Cap represents the gate to reach the National Parc des Calanques.
Marseille's Calanques cover a 20-kilometer (12 mile) stretch of coastline between the village of Les Goudes (a community in the southwestern corner of Marseille) and the town of Cassis. This is one of the most remarkable sites in France, and an important area for natural resources and sport activities.
In 2012, the Calanques area became a National Park.
The setting is majestic, from the limestone cliffs overlooking untouched inlets, to the tiny fishing ports dotted with tiny "cabanons" (typical provençal cabins).
Beyond the famous Grotte Cosquer (Cosquer paleolithic cave), other marine caves are parts of our current itineraries, such as the Grotte Bleue and the Grotte du Capelan. The word "calanque" (from the Provençal "calanco") is the word for a valley carved by a river before reaching the sea.
The numerous fossils encrusted in the limestone are evidence of a story that began more than one hundred million years ago with the accumulation of sediment in the seabed, followed by an uplifting during the Tertiary Period (when the Alps took shape). Erosion has accentuated the rifts and given birth to the rugged landscape we see today.
Our hybrid/electric boat will allow you to enjoy a quiet ride through this untouched scenery and to admire the local well preserved maritime floral and fauna.
We will have time to swim, to explore the underwater world and to have a pleasant lunch on board into a well sheltered Calanques.
Program can change, depending on the weather forecast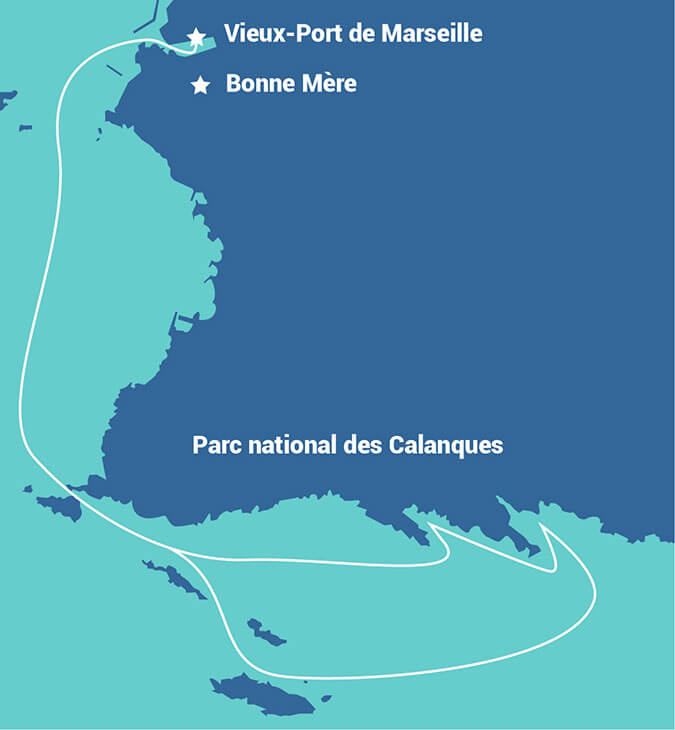 | | |
| --- | --- |
| Duration | 7h (from 10am to 7pm) |
| Passengers | Maximum 2 x 12 passengers |
| Rate | 120,00 € |
| Rate less than 12 | 65,00 € |
| Rate less than 05 | 0,00 € |
Drinks and lunch included
Welcome to people with disabilities; our staff will assist you to find all the solutions adapted to your needs.
The Management reserves the right to cancel the cruise if there are less than 5 adults reservations on each boat.
The capitain reserves the right to cancel the cruise in case of bad weather conditions.